The wood and the trees
Oct 18, 2023
As a woodcut printmaker, what I show the world is an image on paper. It seems like it would make little difference if I carved the design from which it's printed on wood, linoleum, fiberboard, or some other medium (and I have tried them). But for me somehow carving in wood still feels like an integral part of what I do, and it's difficult to explain exactly why. Maybe there isn't entirely an objective reason, but working in wood has been a big part of my life since I was a teenager.
I started doing construction work when I was 15, and later began carving wood to decorate cabinets and furniture. I drifted into printmaking when I got fascinated with medieval art and sculpture while working – in a wonderful interlude to my woodworking life - as an archaeologist in England. I hoped someone would commission me to make medieval furniture, but it never happened, so I had to content myself with carving medieval images on scraps from the cabinet shop and experimenting with making prints from them. My printmaking had to simmer on the proverbial back burner during many years of earning a living in other ways, finally to become my full-time job, more or less, about 10 years ago when I moved to Maine. Since I've been here I'm intrigued to discover that I'm not the only woodcut artist who was once a woodworker, either.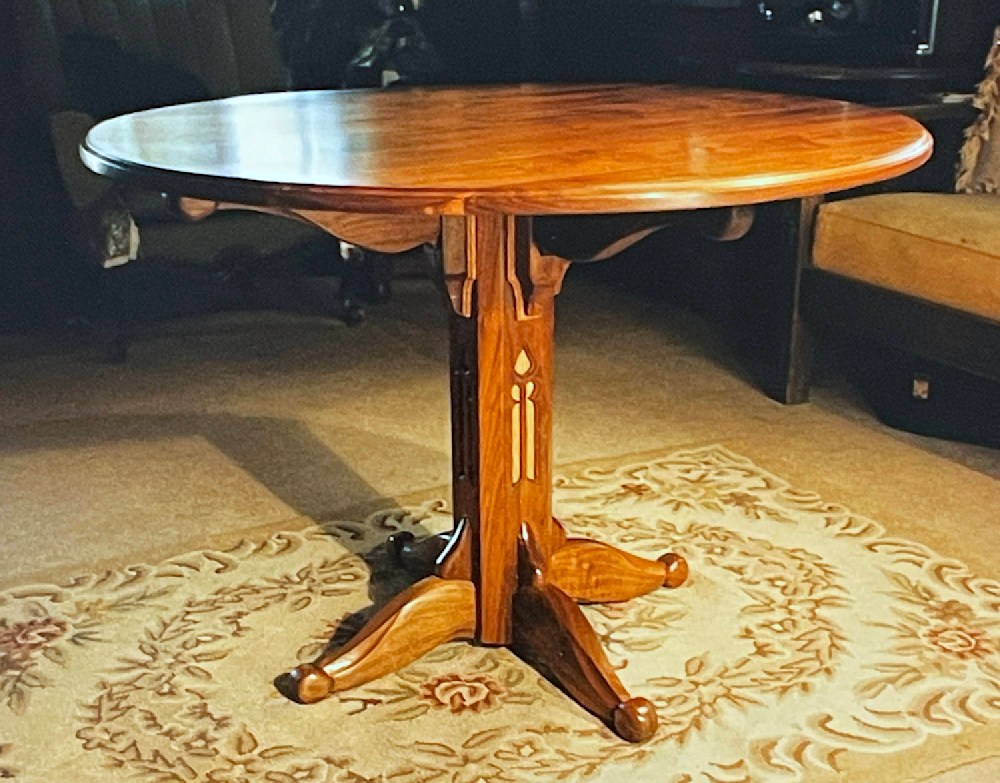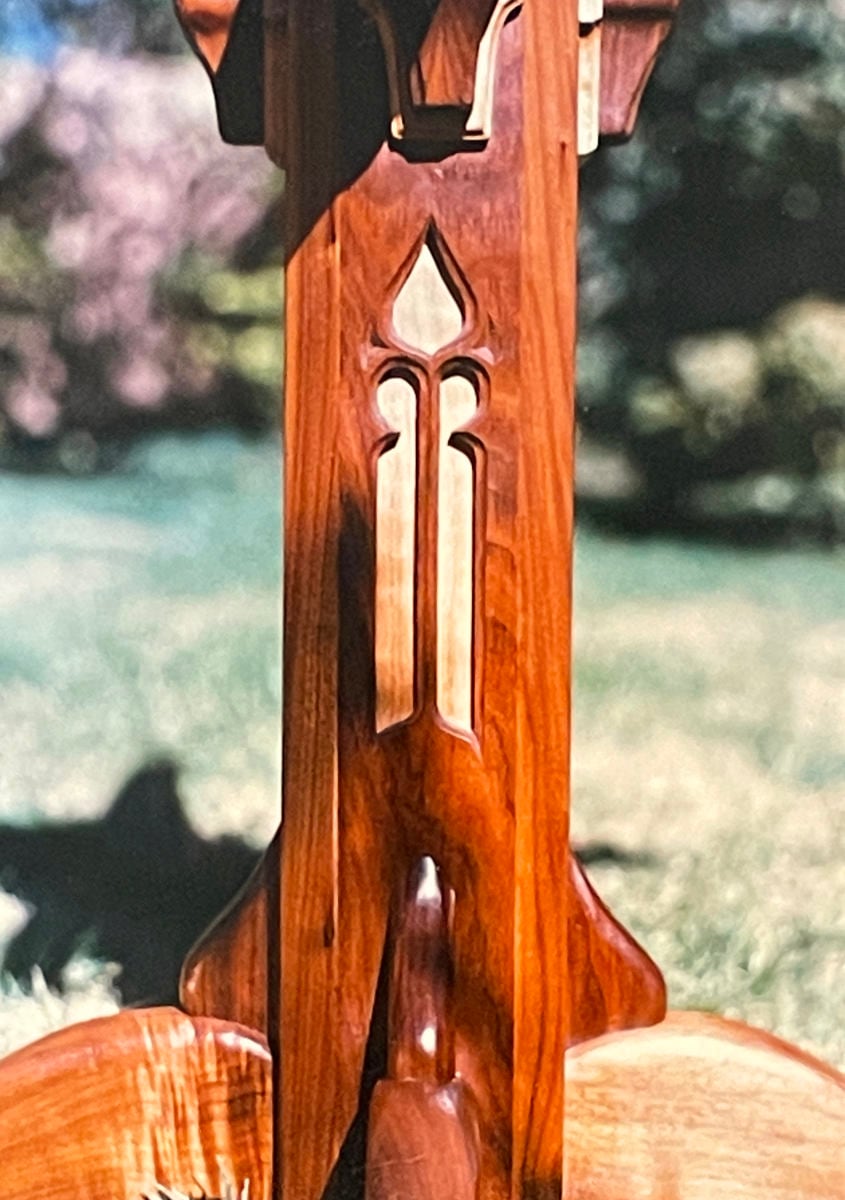 Some of the things I carved before woodcut prints!
I worked at several other things while I was a very part-time printmaker, but the one I spent the most time at was restoring lost wetlands along the Rio Grande in northern New Mexico. I spent a dozen years or so as an ecological restoration contractor for the the Ohkay Owingeh tribe, removing invasive trees and re-creating (as much as possible) conditions that allow native riverside ecosystems to re-establish themselves.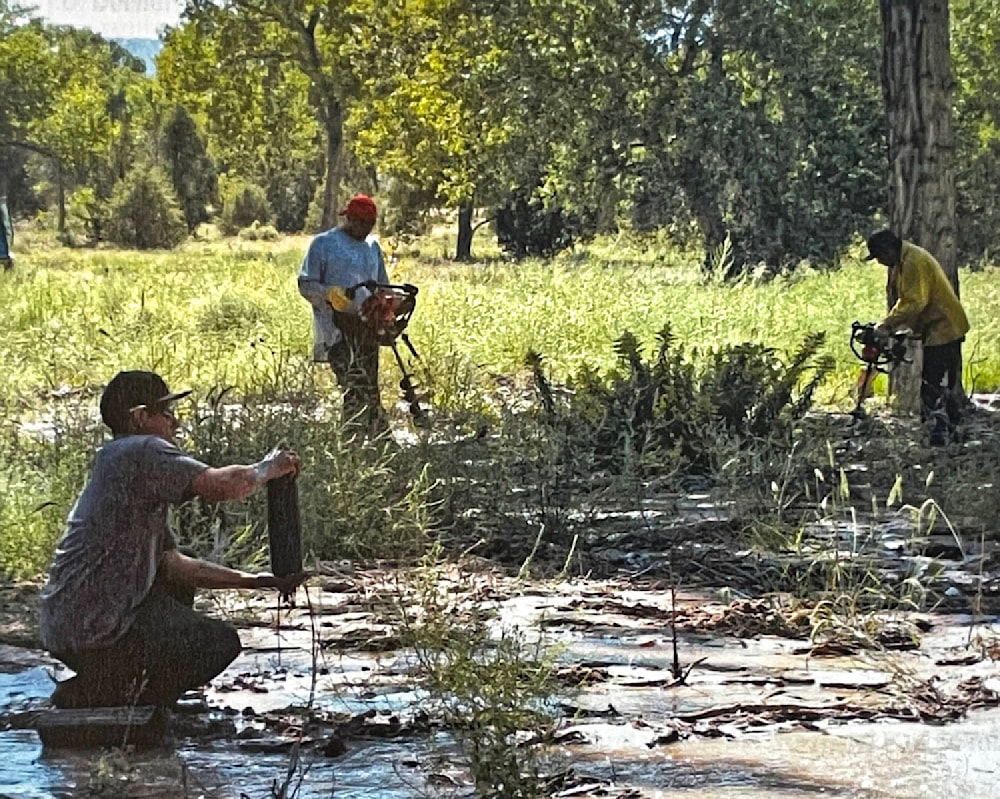 Planting native willows for endangered species habitat
That was, in the world's eyes, a scientific job – I (and my crew) did biological surveys, wrote restoration plans based on ecological literature, planted native vegetation, used heavy equipment, assembled GIS maps and comparative species lists, published scientific papers and gave talks at conferences. But out there in the "bosque" - the riparian woods - sloshing through the water or wielding a chainsaw, planting sedges or counting cottonwoods, in the privacy of my own reflections, I saw it as a very visual, even artistic, occupation. The truth is I found myself very motivated by the dramatic visual transformation of the landscape from an arid, thorny, nearly monocultural thicket of non-native trees (unintended consequences of human activities) to the vibrant, colorful, variegated wonder of the natural wetlands along the river. I saw myself practicing landscape art, for all that I presented it to the world (perfectly truthfully) in dry scientific terminology about ecological diversity and endangered species habitat.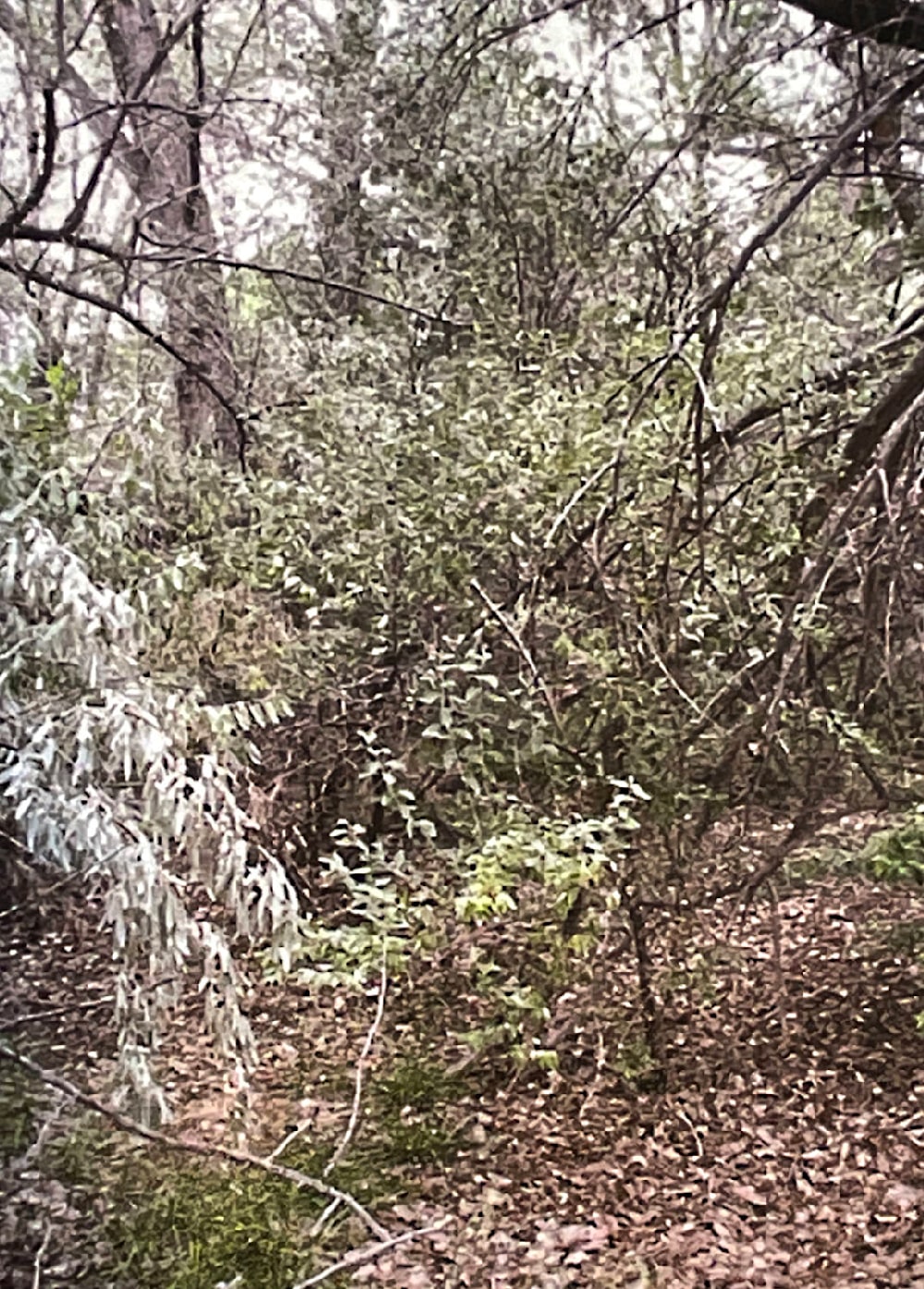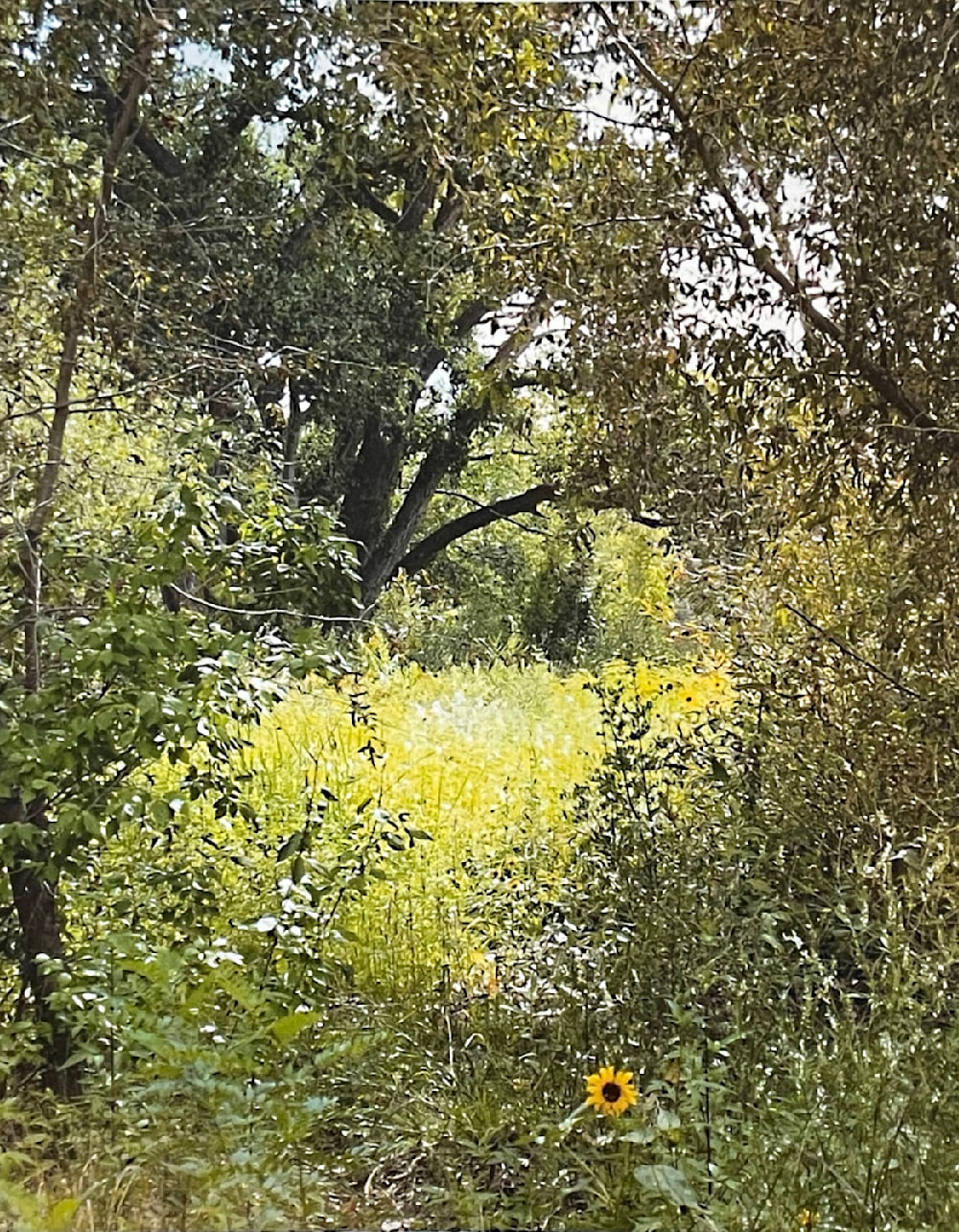 Invasive Russian olive thicket Restored cottonwood wetland
So in a funny roundabout way, I started my working life making things from the wood of trees, and then spent another big part of it later on planting them (or making sure they can grow by themselves). Now I suppose it's come back to making things from wood, a little more indirectly, but it certainly wouldn't feel the same for me if I weren't carving my images on a piece of wood.
I've always loved carving on wood, beginning with my years as a woodworker, and I still enjoy the feel of good tools working wood (I still have a little woodworking shop, too). It took a while to learn how to sharpen the tools properly, though I mastered most of that as a woodworker years ago; but once I did, the process of carving is much like the process of drawing, just done in wood instead of on paper. Still, there is something very satisfying in working with wood and I prefer it to linoleum or other possible relief media. Similarly, for me there's something very important in the act of drawing and carving, by hand, using material from the natural world. I have no interest in using machines to carve (whether dremel tools or CAD-controlled lasers). It's also important to me to then print the image in an inky analog way on a very physical piece of paper. With my hands. Much as I swear at the ink now and then, I don't want a machine to make my prints, either.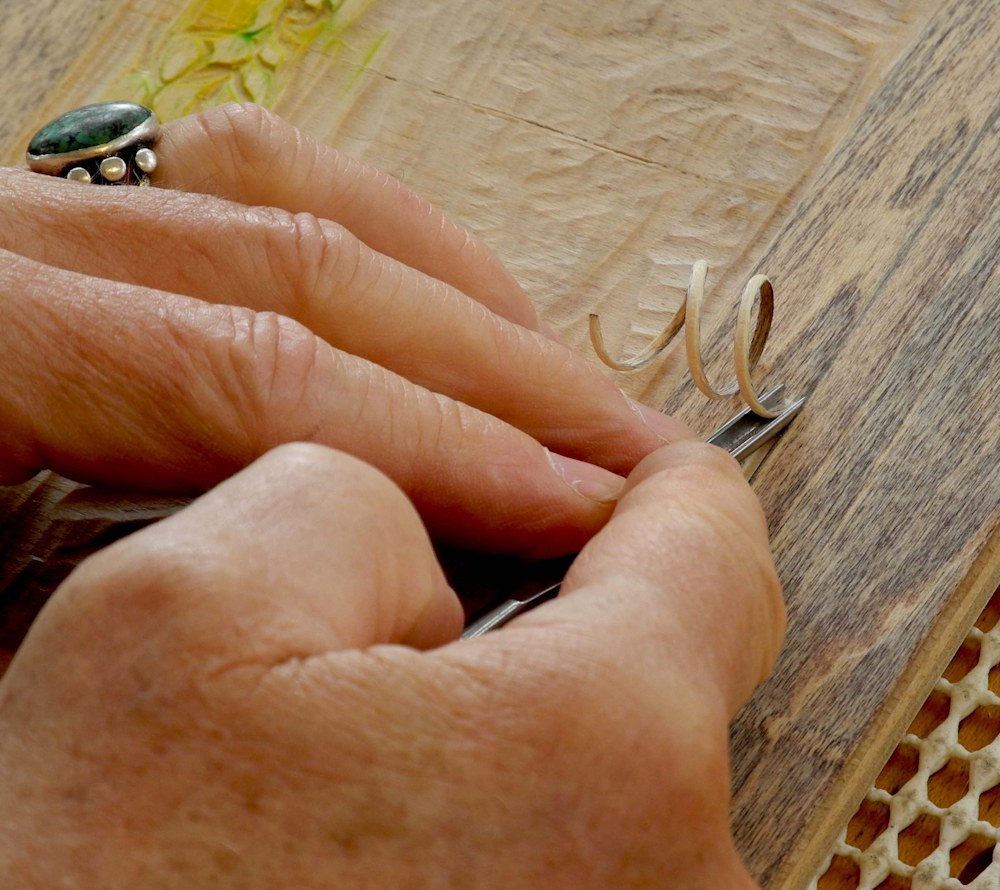 But in addition to the tactile feel of tools in wood, the constraints imposed by carving an image in wood and then printing it impose limits on the infinite universe of creative possibilites and help me focus my visual energy. The process of printmaking seems a kind of alchemy: it transmutes a visual idea through crucibles of drawing, carving, inking, and printing into a finished image that holds some surprises for its maker, and hopefully some delight for its viewer. The very indirectness of making prints, the litany of steps involved, the deferred gratification, invites the unexpected - in contradiction, you might think - to its technical demands, and playing with that contradiction is part of my creative process. You could say that carving my wood blocks even has a faint echo of alchemy in the connection between the physical world of knives and wood shavings, and the world of visual creativity where something I've seen or imagined is gradually transformed into a printed image.